(Duffer is an Australian slang for One who alters the brand on cattle and steals them)
Does an independent small publishing house actually still have a right to exist when the minimum requirements of a publisher can no longer be met?


That's what photographer Michael Klinkhamer asks himself after a tough confrontation with an old-fashioned copyright theft.
What should have been a salute to legendary photographer Tim Page in Australian RSL-affiliated veterans' magazine 'The Last Post' ends up in a self-centered theater of denial and common theft.
During a long train journey home. at night my eye fell on a photo on a friend's facebook page that I took of photographer Tim Page in Cambodia.
Tim Page was a British legendary Vietnam war photographer veteran.
Recently sadly passed away at his home in Australia after a long illness.
He was 78 years old.
In Phnom Penh I wrote an interview about Tim Page, shot some portraits and helped him as a photo editor.
We talked a lot about the profession and also about copyright issues and the challenges that the digital age brings to us photographers.
With interest I clicked on the article in question, which brought me to the website of 'The Last Post', a veterans magazine that operates under the flag of Returned and Services League of Australia, a support organisation for people who have served or are serving in the Australian Defence Force.
Sounds legit.
At first I thought it was a personal blog article, but soon I saw that it had a commercial print magazine and a downloadable online magazine attached to it.
My first reaction of hey, nice quickly went over to, what about this?
Any credits and how does my photo end up in that magazine?
No, I have not given any permission for use in that magazine and for social media. How is it possible that a self-proclaimed publisher and journalist does not ask permission and do not publish any attribution with the photos?
Is this because of the convenience of the internet, and the easy-going behaviour that accompanies it? Ignorance and a self serving attitude?
Wouldn't a publisher, even a small one at least implement the basic concepts of copyright and apply them strictly?
Turns out that publisher Greg T. Ross has been earning his income for decades by publishing 'The Last Post', a man of the old guard it seemed.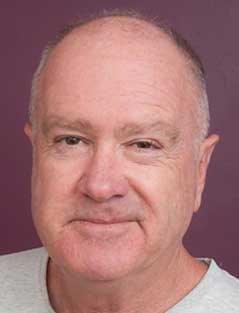 Naturally I checked my claim to my copyright with the publisher of 'The Last Post' GTR Publishing
Greg T Ross in New South Wales.
His measured short answer;
"Michael, the tribute comes from the heart and from nothing else. Great apologies and all the best for the new year."
He claimed to have received a series of private photos from Tim Page's widow.
By accident, my portraits were also included.
My portraits of Tim Page are not exactly private 'snaps' and the look of the photos is professional and apparently good enough that one has appeared on the cover of his magazine and another one over a full page.
The article in question, a so-called tribute to Tim Page, reads like a self-centered and self-congratulatory diary of Mr. T. Ross, but that aside.
After a follow-up email from me in which I explained to T. Ross the mores of the copyright, the evasions, lies and twisted stories came about why T. Ross believed that he could use the photos without permission and or payment.
My answer was clear; "The Last Post is a paid commercial publication with subscriptions and advertisers.

The fact that you published my images on the cover and on a full bleed page is a substantial part of the magazine. It's not a personal blog article about an old pal or a private facebook posting nor a small photo addition but they are on the Cover and again a full page, plus linkedin and facebook, twitter, etc
Tim Page's wife, who is recovering heavily from the grief of her husband's death and was kind enough to provide Greg T. Ross with photos from their archives and private lives, has now foot the bill for the fun and unprofessional 'fanboy'. behaviour of Greg T. Ross. I've send hm an invoice, but he never paid up.

I don't like that, its immoral and wrong!
A veterans-unworthy way of publishing 'The Last Post' and unworthy to Tim Page and his wife. The magazine looks great, pay the dues a small fee for the pictures and credits and there is no issue with copyright. Why the dogging and lying?
Why would a small publisher profiling itself under the respectable banner of the Australian RSL stoop to incompetence?
I know, it's a sign of the times. Laziness and having easy access to millions of photos on the internet makes it all too tempting. Ignorance or no budget for purchasing photography is also a factor. Fortunately, there are also publishers that do adhere to the rules regarding copyright. It seems obvious to me that a photographer is for a part dependent on his copyrights for income and continuation of the trade..