"Usually I wear jeans and raggedy work clothes, but for this exhibition, it's fun to go on chic black" laughs Narouz Moltzer (Amsterdam, 1963) at me from his black BMW car. He is happy and cheerful!
We are in his car on our way to the prestigious Cobra museum in Amstelveen where he participates in a group show with his sculpture chosen by guest curator Aziz Bekkaoui. We first talk about his passion for automobiles, something which I share with him.
BEN COBRA is an exhibition in the Cobra Museum in Amstelveen and can be visited until 5 April 2021. We are looking forward to it. I am just back from Cambodia due to Covid after 10 year and almost depressed from that. Narouz the happiest and a very successful artist in Amsterdam at the moment.
Luckily we both know the old Dutch saying saying "everything for the arts" and from thereof, the most beautiful things are often born. Money comes secondary. The mood is immediately right between us.
The man behind the happiness and the art
Together with his fourteen year old daughter Indi they strolls relaxed through the large hall of the exhibition and look at each work of art with full attention and concentration.
The sculptures are linked to a well-known cultural person who was photographed in relation to that Cobra statue. I see his love for creation. Especially for his own creation, his young daughter.
COBRA (or CoBrA) was a European avant-garde movement that was active from 1948 to 1951. Its name was formed in 1948 by combining the initials of its members' home cities: Copenhagen, (Co), Brussels, (Br), Amsterdam (A).
Dutch artists such as Karel Appel, Constant, Corneille, are well-known founders of the group. Cobra was officially founded on 8 November 1948 in Café Notre-Dame, Paris.
Narouz his portrait at the show is photographed with his bare upper body fully tattooed. I feel his pride and modesty at the same time. We are silent for a moment.
"I won't let myself be photographed with my tattoos anymore, people already know it." He dryly breaks the silence.
In short, as a photographer, I have to come up with a very valid argument to get the artist posing for my photo like that. I have often succeeded in doing so during my portrait photography sessions, but whether it will be possible or even necessary this time remains to be seen for now.
Inspiration for photography is sometimes quickly found
The sculpture of Narouz at the exhibition originated in 2008 and is actually part of a larger work. In that sense, the little sculpture 'Boy with Hoop' now stands a bit naked also.
"I detached the statue from a whole family sculpture actually" explains Narouz with a smile.
Suddenly Narouz is inspired by how he would like to be portrayed today. In Cobra-like movements dance in front of the camera in a black suit. For me that's easy. Let the camera roll!
Apart from the background, it just shows him in an almost childish and playful manner, and expresses the way who he is basically.
What does the Cobra movement mean to a modern artist today?
After the photo sitting, we talk about what the Cobra movement stood for and still stands for today.
According to Narouz, the Cobra movement stands for the pure, the childish, the naive, the not serious. Probably exactly that what makes an artist or anybody happy.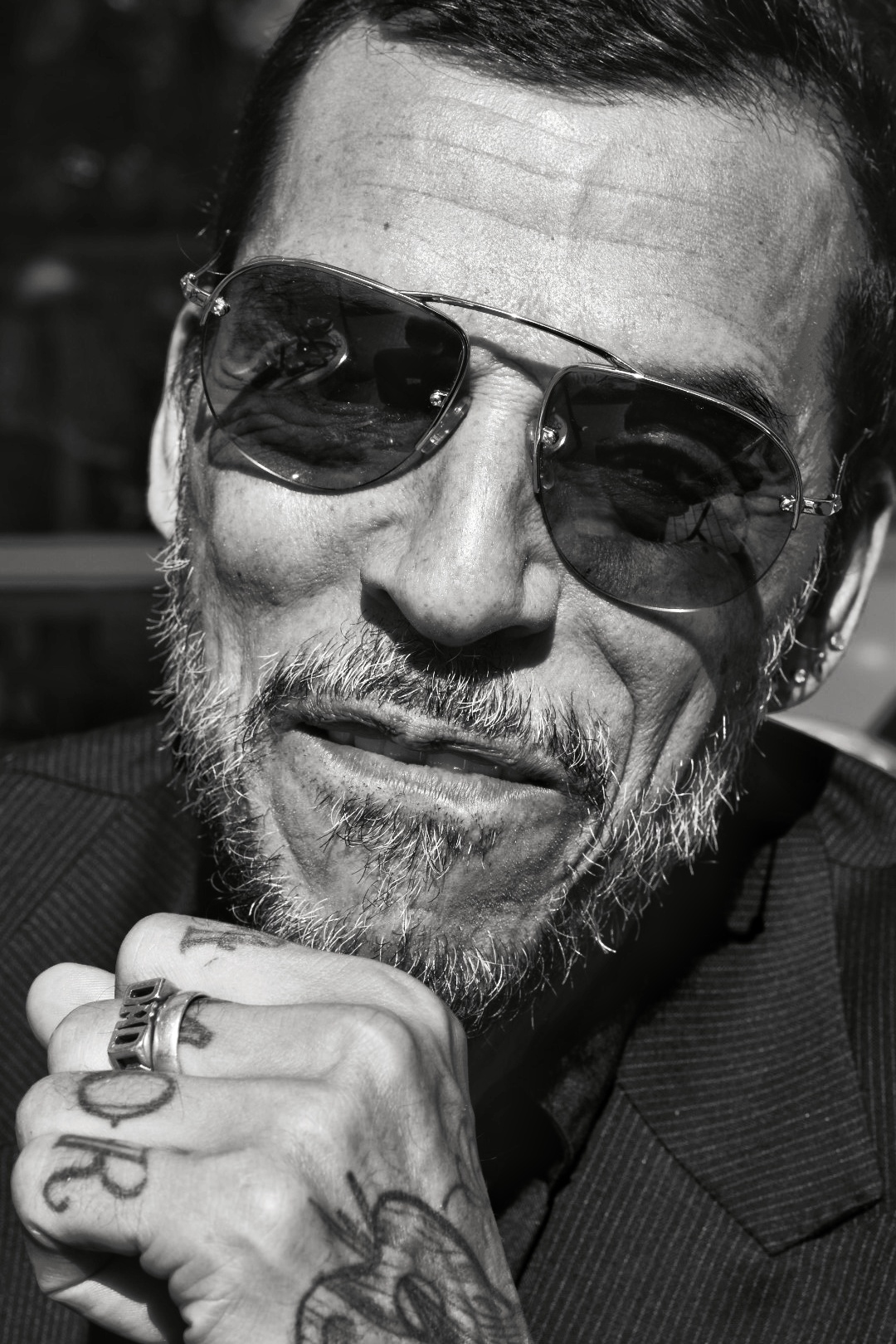 There is no message in his sculptures or paintings, it is the expression of just keep playing like a child and stay creative. Create whatever you want and follow your basic intuition. Don't think too much!
How does the happy artist Narouz create?
Clearly happy to explain, Narouz tells me how he loves to work in his studio.
"I am an artist and I create what I like. Not necessarily Cobra or any another already invented style, I'm never busy with that".
Narouz does not belong inside the box. He paints beautiful canvases with figurative images and patterns and creates impressive bronze sculptures.
Sometimes he finds amusing and useful things on the street and then makes a sculpture of sort out of them. That is his way of working. Let it come and let it go. Covid or no Covid, he has been doing his own thing for years.
The sculptures exhibited here are made by the oldskool Cobra artists and are linked to other art lovers by Aziz Bekkaoui. "In fact, I am the only performing sculpture artist at this exhibition with my own piece."
How does an artist get appreciation for his work?
The Cobra Museum is a very prestigious museum. It is great to be linked to this museum. That is good for my art "ranking." You are valued more, I think, by curators and art critiques who eventually determine your status. Collecting points on your CV is always kinda fun."
While he is laughing, I can see that he does not care much about those term of operandus. His true happiness comes from within. He really doesn't seem to be concerned about it. But by now he understands how it works in the art world and is happy to play the game.
He continues: "When I'm at work in my studio I let that go completely of thought like that. In a real museum you realise that your work resonates with other artists and curators of museums".
It's not always easy as an Amsterdam artist
During our conversation it also becomes clear that life has not always been a walk through the park for Narouz. All the more appreciation for his cheerfulness and positive attitude. I want to know more about how he became like this.
His father died when Narouz was only 3 years old. Of course, that had an impact on his youth. Just like his Portuguese, Moluccan and Indonesian roots.
As a young boy he lived for years in a boarding school when his mother was remarried to a brutal stepfather at home. His time at the boarding school was fun, he adds. no drama there.
For years he was the artist's companion, assistant, and friend of Aat Veldhoen. The famous Amsterdam painter, folk graphic artist and freethinker from the 1960s. He started independent art at the age of 27.
Thanks to Aat Veldhoen's mentorship he quickly understood that making art is a definitive choice of life. Fortune or misfortune does not count there. Go on, keep on goin! That was the motto of Veldhoen's life. A life lesson also engraved into Narouz.
Your life's creations are what it is all about. Covid or no Covid is a similar thing. He will continue in the interests of creation and expression. That is the only thing that makes him really happy.
About Ben Cobra
For the exhibition Ben Cobra, renowned designer, artist, and guest curator Aziz Bekkaoui has invited a diverse group of more than 25 special, colorful, pioneering, outspokenly creative or otherwise striking individuals: from the children's mayor of Amsterdam Ilias Admi to the choreographer Uri Eugenio, from the chairman of the supervisory board of the University of Amsterdam Marise Voskens to the writer Arnon Grunberg.
By linking these contemporary non-conformists to the museum collection, he shows that Cobra's search for hope, the urge for absolute freedom, spontaneous expression and social and artistic renewal are as important today as they were then.
Show is on until Sep 11 2020 – Apr 05 2021.