Now more than ever we like to prove to be the perfect photography tour experience into mystical Cambodia
The Cambodian tourism ministry announced that fully vaccinated international tourists with proof of their inoculation are allowed into Cambodia again. We just did this in February 2022 and made several amazing photowalks in and around Phnom Penh and naturally delved back into the mystical powers of Angkor Wat temples near Siem Reap town.
The results of some pictures captured on film are now published is 36 exposures Magazine.
To make travel more convenient, Cambodia has decided the full removal of the 14-day quarantine policy for fully vaccinated tourists, barring certification showing a negative COVID test 72-hours before travel and another negative COVID test upon arrival at Phnom Penh International Airport.
It's time to get back to the life we love and support the local Cambodians that were hit so hard during the never ending lockdowns.
The whole year is good for travel in Cambodia.
In 2022-2023 we will offer our proven comprehensive photography safari adventures again in Cambodia. Small individual groups. Offering 1/2 day or full day photo tours . We are open for bookings directly or conveniently for short photo walks through Viator-Tripadvisor.
Cambodia 10 days of photography in the kingdom of wonder!
Get in touch with me here for details and next available tour dates.
For our fully arranged 10 days photo trip from the Netherlands to Cambodia I have designed the itinerary below. This is a 10 days photography adventure.
What to expect on a human level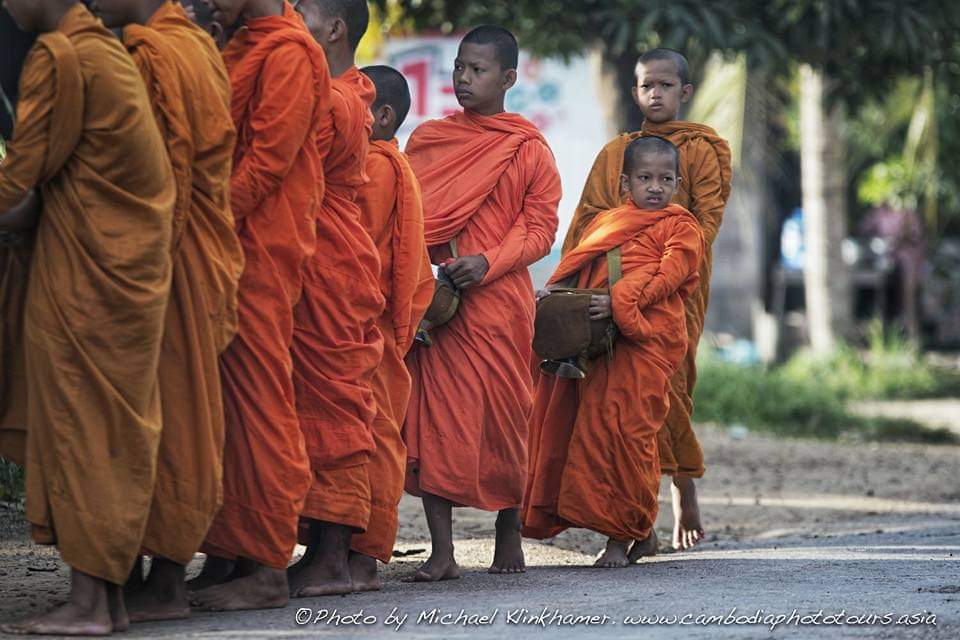 You will meet like-minded people who want to improve their photography and discover Cambodia from within.
The photo tour experience is very informal and hands-on. You will be able to ask all the questions you like. We make sure you will love Cambodia and enjoy the time of your life.
What we will deal with photo technically.
People, light, cityscapes, street photography, portraits, how to handle people, timing, composition, setting your goal as a photographer. Photographing in the tropics, adapting to the environment and make your photography joyful for everyone, also your subject. how to interact with strangers. Learning to improve your landscapes and nature photography.
Color control, messages in photographs, using your your unique talents and skills. How to set up a digital workflow, what to look for when editing, color management.
Speed of workflow, white balance, exposure, reflectors, quality of light, finding the right locations and how to share and present your photographs.

Depart directly from Amsterdam Schiphol to Phnom Penh Cambodia. We've just did this so we can take you there.
With a short 2-hour transit in Singapore. It is of course possible to deviate from this for an individual connecting trip to, for example, Thailand and Vietnam or Laos.
We preferable fly with Singapore airlines as they have proven to me to be the most trustworthy airline to deal with these days. Flying directly AMS into Singapore for transit and onwards to Phnom Penh. It's is a bit of a hassle with PCR tests and some paperwork but once you have arrived its time to unwind and relax on board.
Awesome off the beaten track programs from 10 days or more in Cambodia await us!
Arrival and exploring Phnom Penh, and of course we work towards the highlight of any travel to Cambodia, the world famous Angkor Wat temples. Cambodian lush jungle hideaways and the mighty Mekong river island for a uniques sanctuary stay.
Save and responsible travel is a must and we are aware and able to make your travel plans a reality with our extensive network of known travel partners in Cambodia. With a proven close network of hospitality and transport partners established during our seven years experience in Cambodia you are in good hands.
Cambodia Photo Tour concept itinerary program. 10 days + (2 travel days)
For pricing and bookings for this 10 day Cambodian photography adventure contact me directly Call for free or email: info@cambodiaphototours.asia
Amsterdam to Phnom Penh: AMS 10.25AM with Singapore Airlines SQ329. 1 Stop in Singapore 1h 45min. Arrival Phnom Penh 8.35AM
Return: Phnom Penh 18.35PM transit in Singapore 2 hr 20min, Arrival in Amsterdam 06: 45AM SQ324
During our photo tour we give individual tips and teach useful photography techniques during our photo tours each day when possible and desired. As a team we will critique our photo's and progress together in a casual and constructive manner so we learn, improve and enjoy our photography fully.
Day 1. Arrival in PP and Transit to **** Hotel checkin 06-02. 2 nights. Two days and nights in Phnom Penh. First day to adjust and settle down in Cambodia. Afternoon and sunset photo walk in Phnom Penh.
Day 2. Full day Photo tour and walks in Phnom Penh including visit to Royal Palace and off the beaten track locations. Hidden location around Phnom Penh, meet locals and visit local markets and visit slums, temples and Mekong river communities.
Day 3. Early morning Photo Walk to experience the city gearing up for the day and colourful monks going from door to door to collect alms. Enjoying Cambodian coffee or Chinese tea or savour the delicious local breakfast noodle soup. Walking and taking in all the activity at the Riverside before checkout from our hotel and departure to visit the S-21 museum and Killing Fields in order to better understand what happened in Cambodia between 1975-1979 during the Khmer Rouge( Pol Pot) years . During the afternoon we travel onwards by luxury VIP van to Siem Reap town, the base location for exploring Angkor Wat and beyond.
Day 4-5-6. This is the start of our 3 day Angkor Wat temple experience. The ancient birthplace of the Khmer empire. We start before sunset to catch the first ray's of sunlight. 1. Full day with plenty of time to relax, and cool down in the afternoon. 2.Next day we visit the lesser known and far afield Angkorian temples, some inside the park and some further out and visit the floating village of Kampong Khleang with our VIP van and trusty Cambodian driver. Day 3 is reserved to explore the mountain where Angkor Wat massive stones and building blocks were carved out from named Phnom Kulen. A wonderful area with lush jungles, huge stone boulders and holy river, waterfalls and splendid views.
Day 7-8-9. Today we travel by VIP van from Siem Reap to Kratie, a 335km long ride that brings us to the sleepy town of Kratie at the Mekong river. We spend the next 2 days on a cultural prestine Mekong river island. During our drive we are able to make stops for taking pictures having lunch etc, etc. An exciting Cambodia road trip!
Here you will be able to enjoy the silence of the island life and the mighty Mekong river up close. We hire a boat for an afternoon exploration and watch the endangered Irrawaddy dolphins as they surface for air.
We stay at wonderful Ratjabori resort made of 11 traditional Khmer wooden houses located North of the island of Koh Trong in front of the town of Kratie. This will give you time to reflect on everything we have seen and done so far and rejuvenate your spirit and better understanding of the more quite life in Cambodia before we head back to the city of Phnom Penh.
On day 9 in the late afternoon after our last photography talk and presentations, farewell lunch and drinks. Departure from the island resort at 4pm
Day 9-10: Return drive from our Mekong river hideaway and checkin at your hotel in Phnom Penh. Night free to unwind and enjoy Phnom Penh.
Day 10 Enjoy your last day in Phnom Penh, shopping at the Central market, enjoy an amazing Cambodian lunch at Malis restaurant or Mealea restaurant.

Your taxi will pick you up in time for Singapore Airlines return flights from Phnom Penh to Amsterdam on 16 February 18.35PM one stop in Singapore for 2h 20m arrival in AMS 06.45AM.
After our 10 days of intense and sometimes relaxed photo walks and adventures you will go home with an portfolio of images.
Pictures that will inspire you to produce a photo book or photo exhibition. Full of portraits, landscapes, moments, street photography and architecture to enjoy for a long time.
Professional Photographer Michael Klinkhamer is The ONE leading private or small group (4-6 maximum participants) photography workshop-tours in Cambodia since 2013.

Phnom Penh, Angkor Wat temples and many off the beaten track experiences. Our photography tours in Cambodia are just amazing with or without a camera so do bring your partner for the ride.
During our photo tours, you will get to find hidden locations, meet friendly locals and learn/experience photography tips no other photo tour will offer you.
Languages spoken in Dutch, English, and German during my lectures and image critique sessions. While having a great time we also like to work hard on our photographer skills and learn from each other.
The ONE Cambodia experience is designed to give you real-life views of Cambodia's- Phnom Penh's city life for 1-2 days and take you further into the kingdom of wonder.
We fly to Siem Reap and enjoy an expert introduction to the temples of Angkor Wat. The nearby hidden treasure in the jungle of Phnom Kulen, the Pol Pot- Khmer Rouge last stand for example and many Buddhist spiritual locations and natural wonders the following days.
You will be rewarded with a incredible portfolio of photo's to take home that will last and you will obtain insider knowledge that will make you a better photographer.
Follow my blog updates here:
https://klinkhamer.calltheone.com/en/blog
More information and Booking will be available as soon as we are able to make save and confirmed travel plans options contact me directly here by clicking the contact me button or via the details below.
Contact me for your Cambodia photography plans.
For Bookings Call: +31 616662813.
e-mail: info@cambodiaphototours.asia
cambodiaphototours.asia