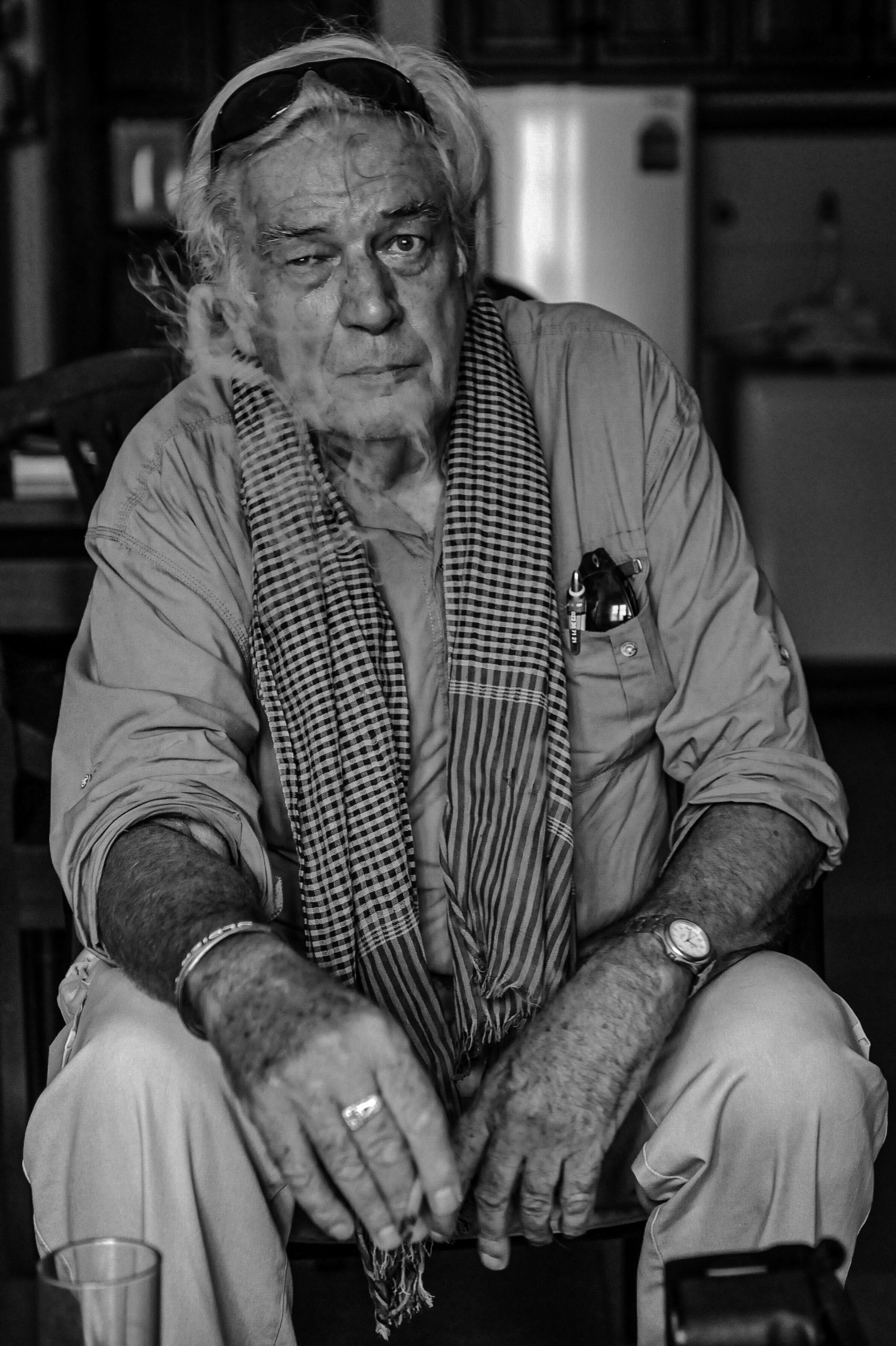 Remembering and celebrating the life of renowned photojournalist and author Tim Page.
Requiem for friend, photography mentor and legend Tim Page, born 25 May 1944. Tim Page has passed away from illness at the age of 78, on 24th August 2022.
The portrait photos of Tim Page photos published here were taken in Cambodia between 2012 and 2015. At that time, I had lived and worked in Phnom Penh for quite some time, and heard from my friend and Phnom Penh's finest poet and actor extraordinaire, Antonis Greco, that photographer Tim Page was in town. At that time I didn't really know who this photographer was, but as usual I registered Antonis enthusiasm.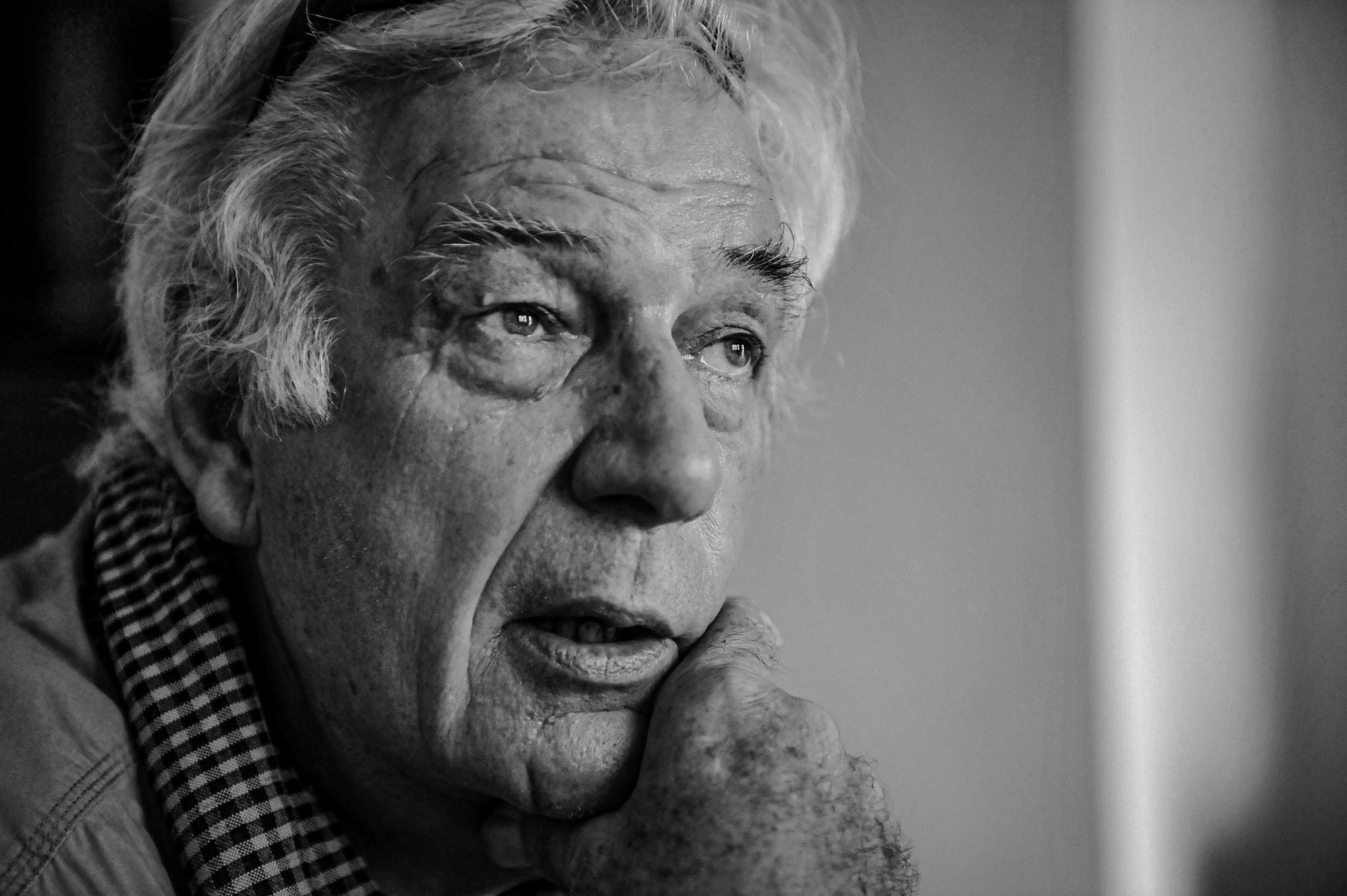 A few days later I ended up in the town of Kampot in the south of Cambodia for another photo assignment. Early in the evening, after a day of shooting, we checked in at our hotel 'Villa Vedici' where an elderly gentleman at the bar was drinking solid shots of rum and rolling a joint.
With my camera around my neck and camera bag on my shoulder, I walked past this gray haired gentleman who shouted to me; "that it was in fact nonsense that I was still taking pictures because he had all the pictures I needed".
In itself a pretty bold statement, but also a very direct way to get my attention. Casually I replied that I was extremely happy to take my own pictures, but thanks for the offer. Who do I have the pleasure of talking to? In a dark brown voice, the man at the bar answered, veiled in a smoke screen; "Hello, I'm Tim Page."
Meeting Tim at the Villa Vedici, Kampot Cambodia in 2013
As noted before, I had heard his name drop before and replied, Ha! So you are Tim Page! Yes of course was the answer. Everyone knows me, I am world famous! To which I replied sharply. "You are so humble too!"
We laughed!
Page briefly mentioned that the war photographer character in the film Apocalypse Now was actually based on him, being the 'mad' photographer in Vietnam at the hight of the conflict.The now classic role of the maddened actor played by Dennis Hopper as a Vietnam war photographer.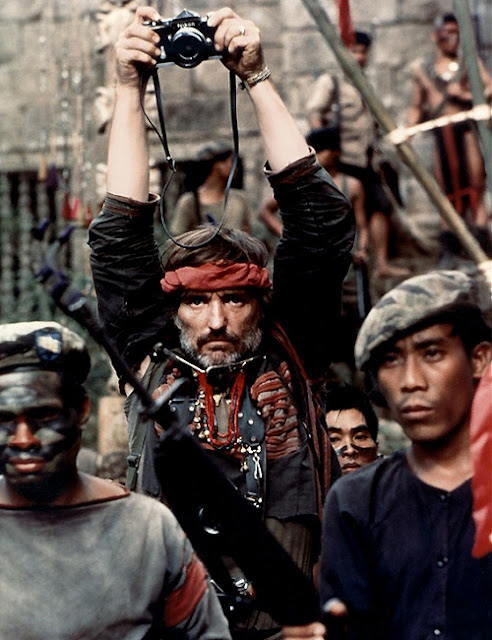 Hopper used Page's infamous personality during the war as his inspiration for the role. His adaptation role in the movie was again triggered by the 'new journalism'-Esquire magazine articles and the 1977 book 'Dispatches' by Michael Herr.
In the meantime I was also getting comfortable at the bar and we had a nice drink and had a short casual conversation. In all honesty I had not a good idea of what he was talking about at the time, but of course I did know the great movie Apocalypse Now.
Page and I decided to meet back next week in Phnom Penh, for an interview at the German cultural center 'Meta House', where Page had his solo exhibition of his photos.
At the time I called this performance shoot appropriately 'Gimme Shelter'.
Combined also with a lecture by him about war photography to an international Phnom Penh audience. The powerful and intensely speaking and gesturing Page was taken in 2015 during another lecture by Tim at Meta House.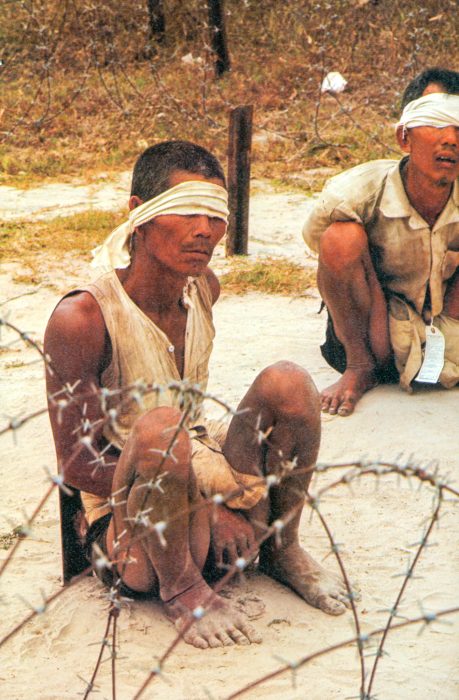 Of course I was recently deeply saddened after his passing and listened back to the first audio recording of our conversation. And noticed that back in 2013, I didn't really know much about the life of this veteran war photographer and the books and films that Tim Page was credited for in the 1980s-'90.
Here are a few amazingly strong images by Tim Page from his book called Tim Page's NAM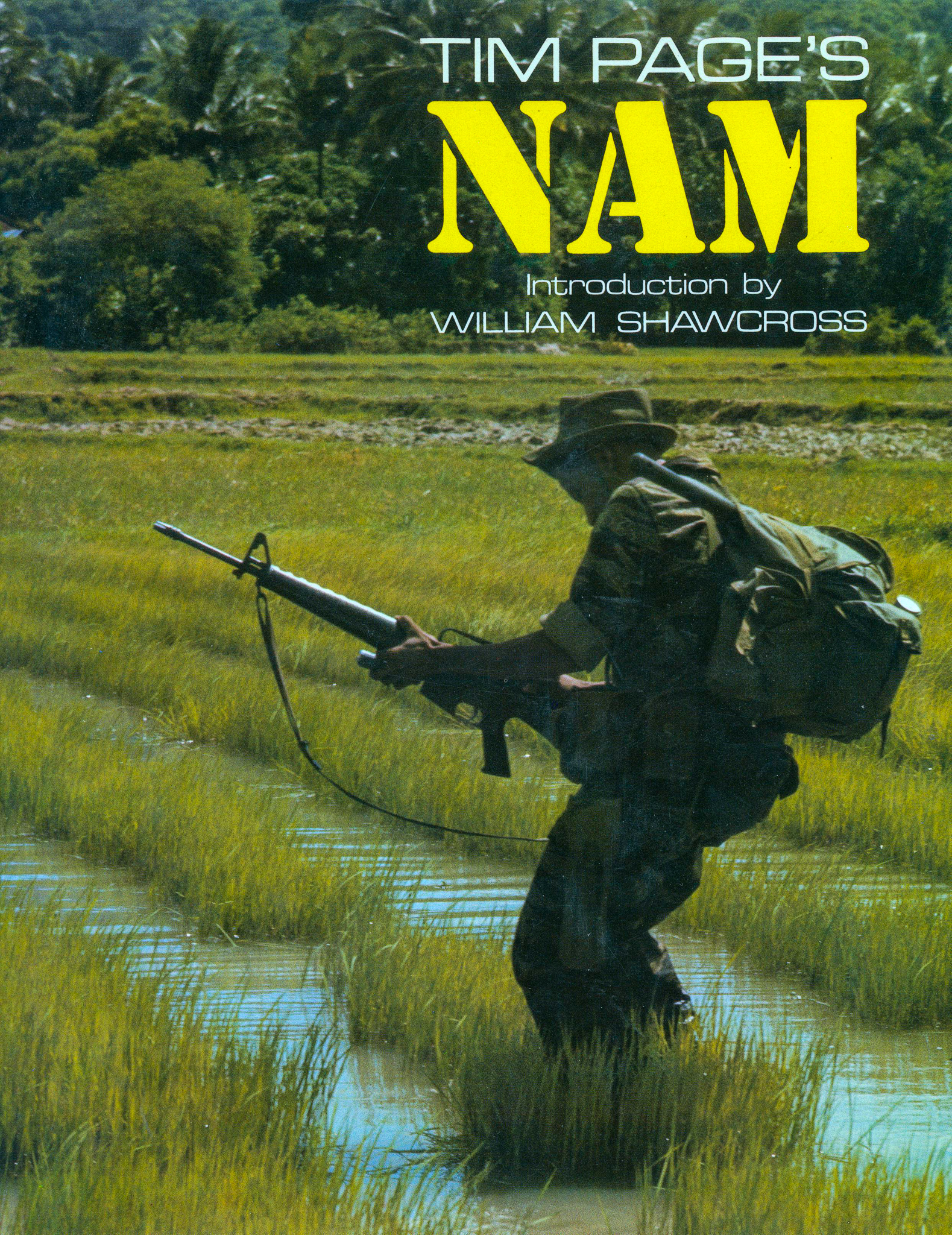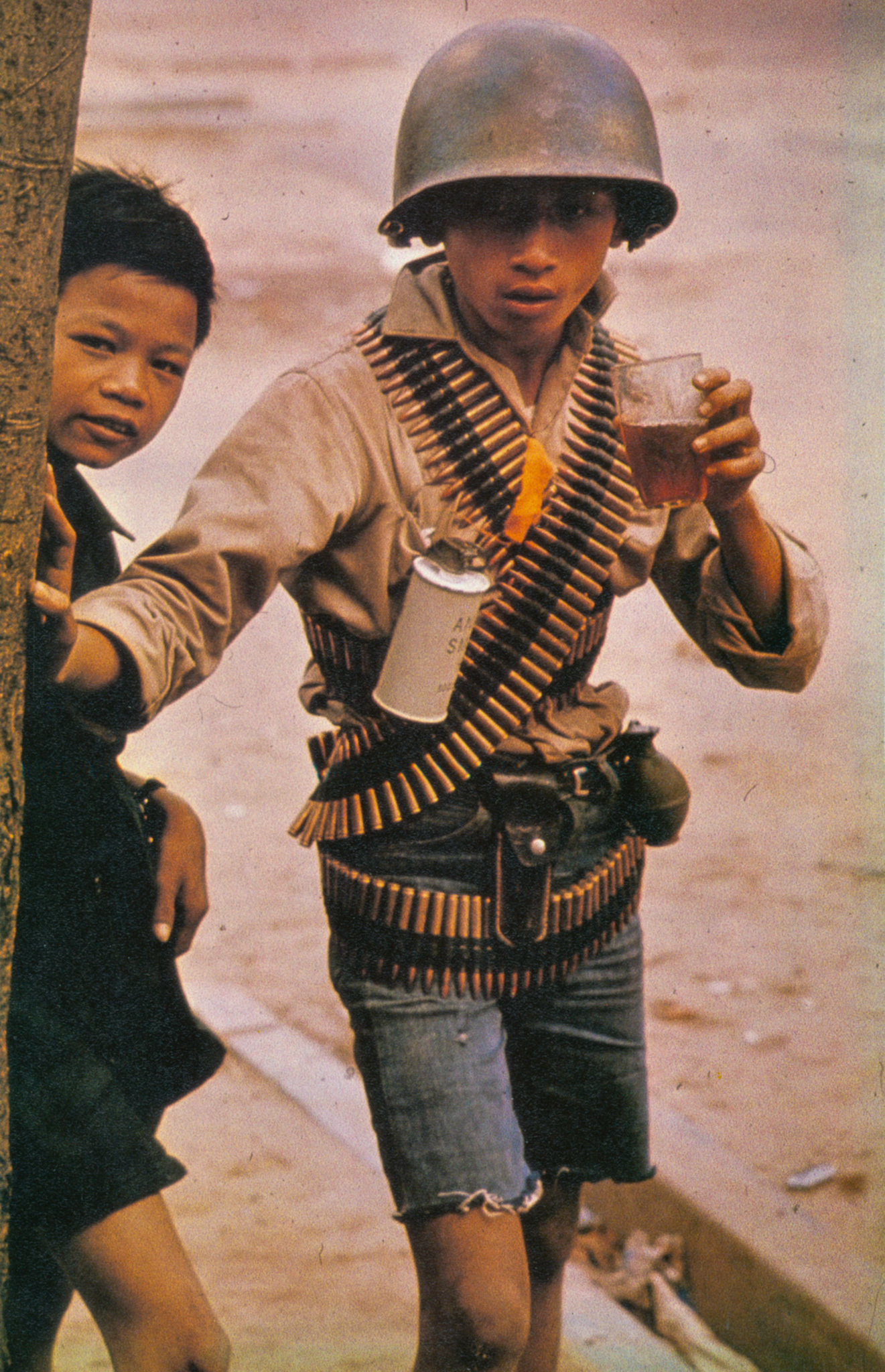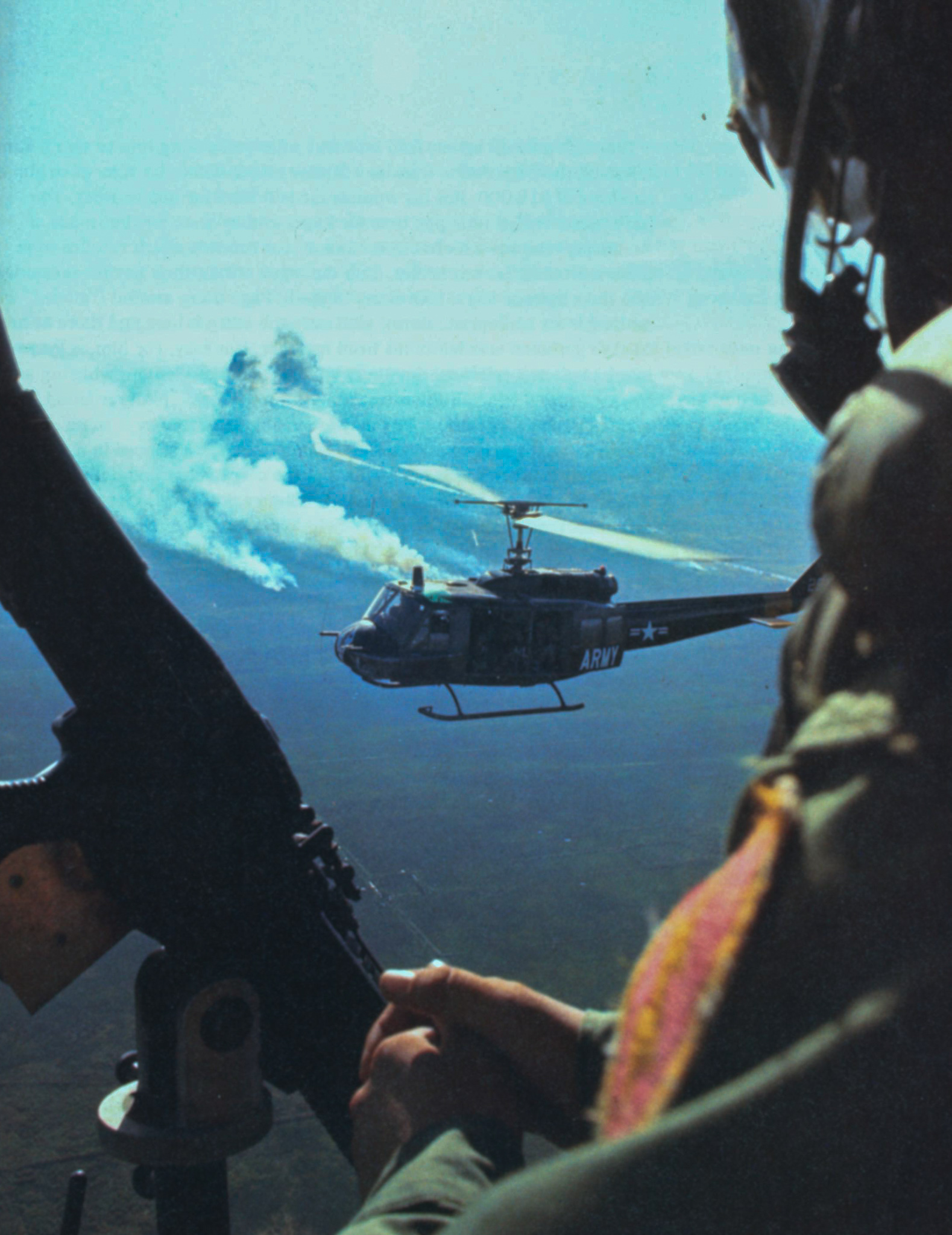 Our first meeting and interview led to an open conversation and in my role as journalist I eventually wrote a juicy article about Tim Page. In this article the magazine editors portrayed Page as the crazy dopey Vietnam photographer. The article was published in a Dutch men's magazine and then again in a publication for an Australian magazine 'The Big Issue'.
In reality then Tim Page was a soft spoken person who educated everyone with his knowledge and he was very much down to earth. But he fully understood the legacy he had created and how the publishing industry works.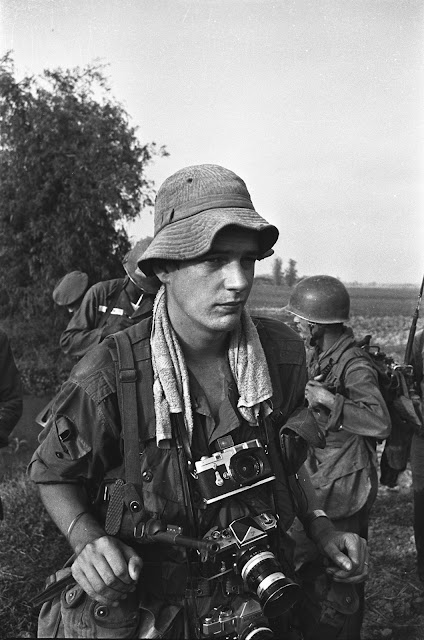 A few weeks later, Tim Page called me with the honorable request to come and help him transfer his images, select and edit his photo material for a GIZ assignment by a German NGO.
We ran through thousands of is photos showing Cambodians in areas that were affected by the Khmer Rouge war and now finally being allowed to develop into areas, previously hit by landmines and other undetonated weaponry, bombs and grenades.
This resulted in an intimate week of long daily sessions behind Tim's computer and us running through the footage together. Picking out the best photos and getting them ready for publication.
From the morning at 10 o'clock until about 5 o'clock in the afternoon. Between coffees and lunch there was always the sweet smell of Tim's preferred herbs in the air.
For me it was as if I was back at my photo studio assistant times again, working with an older master photographer and learning from the best the dire ropes of the conflict and war reportage photography profession.
What stayed with me from those days back in 2013 was Tim's youthful enthusiasm for photography. With his track record he still operated as a 'freelancer' and from a commercial point of view he was always keen to sell his photos and be active with exhibitions, selling prints and giving lectures and good assignments. He was surly on the money, paid me well and we had a very productive time working on his assignment for GIZ in Cambodia.
In retrospect it almost felt as if I was back in Saigon at 'Frankie's House' with Tim and Sean Flynn. Back in those days, as many of his friends he knew in Phnom Penh dropped in, they sat down for a good Aussie yarn and a puff. Tim had become an institution, a legend in his own rights with still a youthful professional ambition and a smoking joint relaxed at hand.
I think back now, the way Tim Page let me into his world and the brotherhood was a major part of his personality of sharing stories and building camaraderie.
Our encounters were always positive and inspiring, gradually along the way I learned more about his past. But he also opened up about other great war photographers. Tim Page was the co- author and editor of 'Requiem' a remarkable landmark photo book about the Indochina conflict and the photographers who died. And of course about his current life in Australia together with his big love and mate Marianne Harris.
The last time we met was also in Phnom Penh in 2015. Tim was sitting comfortably at the bar again. He personally signed his book publication 'Page by Page' for the attendees after an intense lecture and photography show.
While Tim would chat with the admirers and sign the books with a personal note. I would in the shadow of the crowd collect his book sales payment transactions. Put the cash in his bag, and keep the meet & greet session reasonably organized and ensure a smooth flow of the highly honored audience.
Fond memories now at this sad times after his sudden death.
Still, we luckily have his stories, the books he wrote, and the movies and documentaries. With this humble blog article I like to celebrate my intimate portraits of him together with Tim Page his incredible important photos of the horrors from Vietnam.
Tim Page did it all!
Rest in Peace!